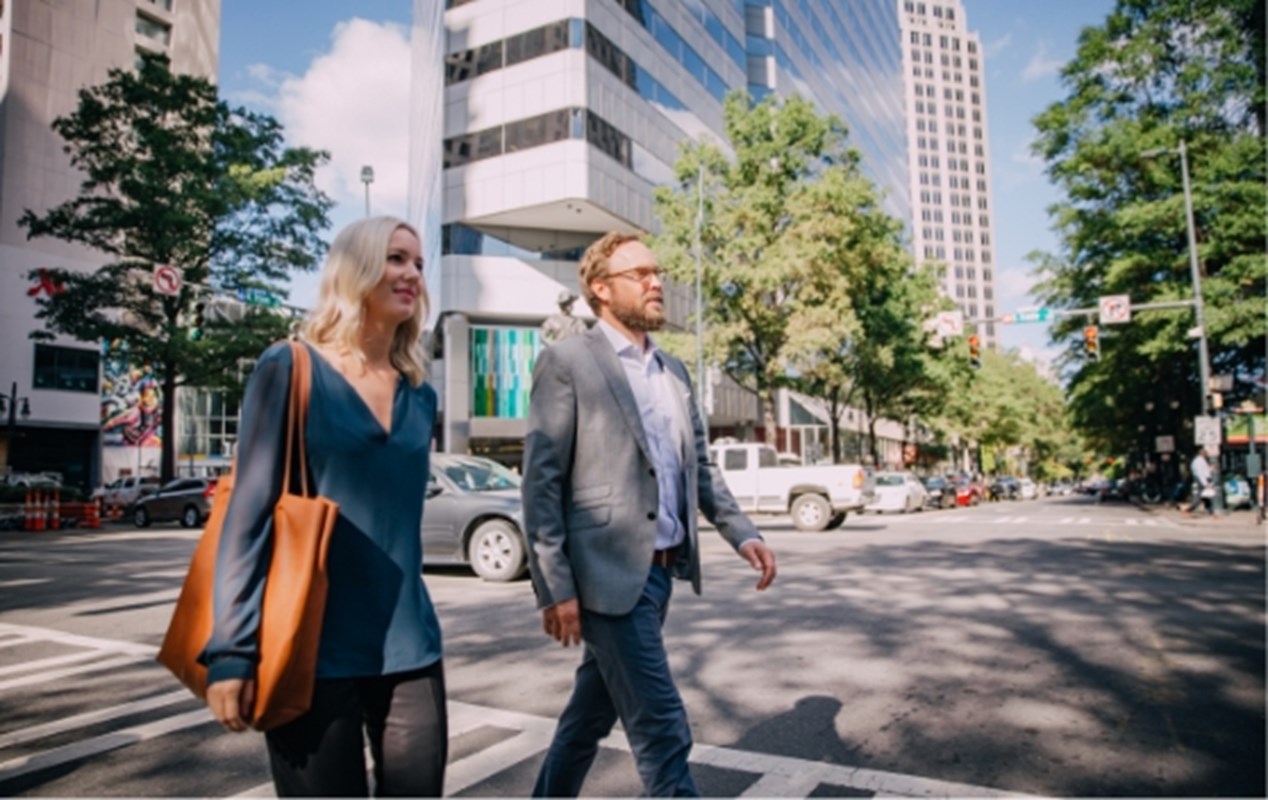 CHARLOTTE STORIES
Aug 18 '20
Crescent Communities announced a massive overhaul and the renaming of their skyscraper at the corner of Trade and Tryon Street in the heart of Uptown Charlotte.
Crescent Communities and Nuveen Real Estate will be investing approximately $25 million to revamp the 23,000 square feet of ground level retail, redesign the atrium connecting One Independence Center to Charlotte City Center Marriott and The Ivey's Hotel. Renovations for the newly named One Independence Center have begun, aiming to infuse new energy into the intersection's storied past.
In collaboration with architecture and design firm Gensler, the new design creates a unique hospitality experience activated by street-level engagement. Multiple outdoor seating options are linked together with features including a prominent front porch and a new entrance along Tryon Street; a light and airy atrium filled with a living green wall, natural tones, and beautiful hanging light installations; a renovated office lobby; and an expanded street with enhanced retail and restaurant offerings. The dynamic internal marketplace is then connected to the active sidewalk promenade via a unique "street extension." Designed for employees, residents, and weekend explorers alike, the tower will be a true city block destination.
"Today's employees expect their workplaces to offer more amenities and common areas, and with One Independence Center, we will create the premier business, dining and leisure destination – something we've felt is missing in the urban fabric of Uptown," said Brendan Pierce, Senior Managing Director of Commercial Development at Crescent Communities. "The building's name is inspired by the location's history, and we're excited to build upon this legacy while honoring the past — bringing new office, retail, and restaurant options to the heart of Uptown."
In terms of accessibility, One Independence Center will feature a CityLYNX Gold Line Streetcar stop immediately in front of the property and is steps away from the LYNX Blue Line. With quick access to the airport and Interstates I-277, I-77, and I-85, the revamped destination will serve as a vibrant, accessible, and approachable gathering spot for the Uptown community seven days a week. Charlotteans can explore the city's culture with numerous coffee shops, hotels, gyms, and city parks within a few minutes' walk from the tower.
"These renovations will completely transform the street-level activation and have been carefully designed to deliver an exceptional tenant and pedestrian experience," said Sagar Rathie, Managing Director of Commercial Office Development at Crescent Communities. "The entire retail exterior will be replaced with a drastically improved storefront, including new masonry, exposed steel beams, and large glass windows. The main entrance will step back to an expanded, open air plaza and rejuvenated atrium, enabling the enclosure of the building's corner for a marquee restaurant opportunity. We're thrilled to begin these exceptional improvements to one the most prominent intersections in Uptown."
The building has been rated Wired Certified Gold for its excellent connectivity—addressing a top concern for today's tenants and employees. The Wired Certification program, developed by WiredScore, champions cutting-edge technology in commercial real estate by providing the only certification for rating the connectivity of commercial buildings. One Independence Center's Wired Certified Gold assures that the building provides tenants and visitors with access to fiber connectivity as well as five choice internet service providers in order to support diverse connections. These infrastructure measures will ensure that One Independence Center's connectivity is protected and secure, and that the building can deliver reliable connectivity needed for all tenants.
One Independence Center sits on the former site of the Independence Building at Charlotte's Independence Square. Once a 186-foot skyscraper in Charlotte, the Independence Building was originally built in 1909 by J.A. Jones Construction before being demolished in 1981. The iconic Trade and Tryon street corner was also once home to upscale department store Ivey's, which was preserved and converted into a boutique hotel. It was founded in 1900 and remained in business as a Charlotte retail and restaurant hub for more than 90 years. Inspired by its neighbor's history, Crescent Communities will use Ivey's as a source of inspiration for the renovations, aiming to revitalize the address while honoring its past.